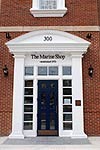 Support Two Marine Corps Programs
Waterhouse Fine Art Prints
In partnership with our friends at the Marine Corps Scholarship Foundation, MCA&F is pleased to be able to offer a wide selection of Waterhouse limited edition prints. Profits from the sale of these prints will benefit both the Marine Corps Association & Foundation and the Scholarship Foundation – with 40% of the purchase price from the print directly benefits the Marine Corps Scholarship Foundation. Purchase and enjoy your favorite print, and know you are supporting two outstanding organizations!
Desert Storm Ancestors by Col Charles H. Waterhouse USMC (Ret.)
Biography of Col Charles H. Waterhouse USMC (Ret.)
Col Charles Waterhouse's Marine Corps career began in 1943 as an enlisted man in the Marine Corps Reserves. Joining the 5th Marine Division FMF, he was present at the landing at Iwo Jima where he would eventually suffer injuries from enemy fire and earn a Purple Heart. 
In 1946, he left the Corps to pursue a degree in art at the Newark School of Fine and Industrial Arts. After completing the degree in 1950, he worked as a professional artist for various print media outlets that included creating artwork for books, magazines and advertisements. In the late 1960's, Col Waterhouse served as a civilian combat artist in Vietnam, serving three tours as part of the Navy Art Program which eventually led to him accepting a special commission from the Marine Corps as a Major and as a combat artist for the Marine Corps Reserves.
Col Waterhouse retired shortly after the Marine Corps promoted him to the rank of Colonel in 1992. He was awarded the title of "Artist in Residence," becoming the first and only person to earn such recognition. Col Waterhouse continued to document the rich history and culture of the Marine Corps through his art and embarked on a series of paintings chronicling Marine and Navy Medal of Honor recipients. Colonel Charles Waterhouse, USMCR, 89, passed away early on Saturday morning, Nov. 16, 2013, at the home of his daughter and son-in-law in Toms River, N.J.

https://marineshop.net/wp-content/uploads/sites/3/2017/07/TMSstore.jpg
150
100
Justin Watson
https://mca-marines.org/shop/wp-content/uploads/sites/3/2020/04/logo.png
Justin Watson
2015-02-16 23:21:44
2022-04-27 09:29:58
Waterhouse Prints